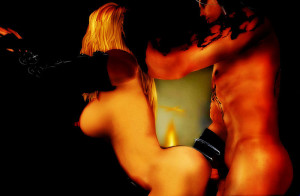 I am not an anal slut… But I do like it in the ass. Most women won't have anything to do with anal sex.  Yet I love it. Does that make me an anal slut? Something I do know about me though.  I am certainly not a slut.  But boy o boy, I do enjoy an anal fuck.
So what is about anal sex that drives men over the edge and towards the back door.  Are they all a sudden no longer interested in a woman's vagina?  Of course not.  I think that guys dream about "fucking us in the ass" because of the feeling of power it gives them.  Of course, it's tight and all that in there, but so is my pussy, let me assure you on this one.  Plus there are things I can do to a dick with my pussy that no amount of anal penetration will allow me to do.  Guys, a pussy is where your dick is supposed to go. Not inside my butt!   So why do I like anal so much?
You tell me! I still don't think I'm a slut though, anal or otherwise. And I am certainly not an easy woman. Nor a submissive woman.  The opposite in fact.  And when it comes to my men, I like them strong, powerful and with that hunger in their eyes…
I have a picture on my desk. It's a black and white image of a man built like an Adonis. You know the kind.. Strong, bulging muscles on his chest, buns of steel, thighs the size of trunks, powerful, rippling with energy…
And the man on that picture is naked. It's an artsy type of image, one which you see just for pleasure, quietly designed to trigger an urge… A carnal urge…
The cock is huge. Dangling down his thighs… He is huge. And when I watch it, I have this urge to reach for it. Touch it with my fingers, hold it, lift, in awe of its size, its length. It's a man's cock… just like I need.
That picture, this man, that cock, when I allow myself, can send me into frenzy. Whatever you think a man can do to a woman in heat with that cock, I have fantasized about. And more..
Which brings me to the subject at hand. To my ass.  And anal sex…But before the butt, there's a detour.  A walk through the light.
And I like to look at that huge cock, feel it, really feel it inside of me. Writing about it has me drenched. How I need that cock. Sliding in… Splitting me open… Pounding.. Inside my pussy… awakening my body… and triggering the ripples of pleasure that wash over me, wave after wave. It's never long before orgasm knocks me down, like the whip of the Gods. One, and the other, receding into one another. And then the man stops…
I have experienced the throes of orgasm and yet he is still hard, still huge, still hungry. Unspent. And then finally, after some delicious after shocks, I know, from the look he gives me… That he wants more.. That he is not done. Not any way near… He wants me to be his anal slut. Anal sex is what he wants, and he knows, I know that this is exactly what he'll get.
I am not an anal slut, but I do want to be his anal slut. I want his cock, anally.. In my butt.
And for a fleeting moment, I panic. I have felt him inside of me already. In that part of me that is made specifically for him. But the other part of me… How could he ever possibly take me… there. He would rip me for sure.
But as soon as I think of the pain, I know that I want it and when he turns me over, props my butt on a pillow so that my ass is exposed I whisper:
Go easy… You're huge…
It's the voice of the little girl that is still inside of me. And I haven't heard it for so long it surprises me. It's the voice of the woman who's just been fucked and is about to be fucked again… Only this time… It's not my pussy that he is hungry for. This time, it is the anal slut he needs. And he is going to take me/
And as I raise my butt, expecting the impossible, with the sweetness of a man who knows the power of his cock, I feel a finger. Thoroughly lubricated. Anal fingering is an art.  He can lead the way to untold pleasure, if it's done properly.  And he's got this anal fingering down to an art. He starts with his finger.  His long finger. Lubricated, poking me.  He traces concentric circles around my asshole. Getting closed and closer the the entrance.  And then he is at the center.  And he pokes at me with more purpose. And I feel it come inside.  It's a slow, deliberate movement that takes me by surprise, even if I have known all along what was going to happen. And I have this urgent feeling to move, to run away, but he holds me with his other hand. Puts it on me. His hand soothes me.  Takes my mind of his finger moving slowly inside my anus. His big hand on my butt, moving towards my shoulders, my neck, reaching under me. Grabbing one breast, and then the other. Tugging on my tits. Hard. Causing ripples all the way to my pussy. And then his hand reaches for my pussy. And how I need it there. And when his hand grabs my clit, and takes what is his already his, I realize that his other finger is still deep inside of me. The invading finger. Moving in and out.  Fucking me.  He is a fucking master anal fingering.  And I don't feel the pain anymore.  I am just his.  His Anal Slut. And that moment, I want nothing else.
And the combination of fingers on my clit, and the other inside of me, moving in and out, ever so slowly, is enough to send my body into an orgasm that rips through me mercilessly. And when my orgasm finally starts to recede, all of sudden, I feel a void. His finger is gone…And I want it back.  My ass wants it back.  The urge is overwhelming.
And I feel empty. Incomplete. How I long for it. How I want nothing more than to be his butt slut. And he knows it because he asks me what I want.
'I want you to fuck my ass… Please…"
And then this man's cock, this huge cock, presses against my ass. He's got both hands on my hips now… And I know that the moment has come.
And the cocks pushes in. Inch by inch. And the pain is delicious. And when it recedes, I wish it to be back, because you see, with the right man, I can and will be your anal slut. And when he begins to slide, in and out, his huge, long cock spreading my ass open, sends ripples through my body, once again, the orgasm hits me. And for a while time stands still… And then I feel it. Deep inside my ass. His cock twitching, filling me up, spurt after spurt, and at long last, he comes inside of me, hungry, powerfully, conquering.
And at that time, I know that for this man, I will always be an anal slut!